2022 SALES RESULTS
Nov 22, 2022
Prices Rise At Monart Sale
November 11th, Co. Wexford, Ireland: Ireland's only elite horse sale, run by riders, for riders, The Monart Sale, this year presented by Sprenger, once again delivered a record sales figure despite global economic pressures.
The 2022 average sale price was up 10.5% on previous years, with an average of €16,896, and six lots breaking the €30,000 mark, whilst the clearance rate still topped 76%
"Once again, the sale has exceeded expectations and grown more than we could have expected. This year we've had buyers from around the world, in addition to strong Irish sales." confirmed sale Director, Niall Griffin.
This year's sale again attracted buyers from across the world including the UK and Ireland, Mexico, Belgium, France, the USA and Canada, Germany, and France. Notable listed buyers include Ireland's Aoife Clark, Lucienne Bellissimo (USA), Noor Slaoui (MOR), Harry Dzenis (UK) and European Junior Gold Medallist, Ibble Watson.
We will also see some of this year's graduates make their way to world number 1, Tim Price (NZL), and leading Irish rider Austin O'Connor. All the world's top 3 ranked riders now have Monart Graduates as part of their stable, with 7 out of the world's top 10 having purchased horses via The Monart Sale.
Success for the Monart Graduates continues at pace with Hot Bobo taking the CCI3*L win at Tryon International, this month, with Monart sale regular Karl Slezak (CAN). Lot 66 will be the latest Monart Graduate to head out stateside to join Team Slezak Eventing, as a new acquisition for Katlyn Hewson-Slezak.
2022 sales toppers include:
Lot 50 – Unnamed – a good-looking blood mare with three excellent paces and scopey jumping technique.
€38,000
Vivant Van De Heffink x KEC Maximum Joe
Vendor – Brandonview Stud
Buyer – Pat Kavanagh (IRL)
Lot 80 – Oldrock Amy – a very tall 17hh filly, who is both careful and courageous in her jump.
€35,000
Sligo Candy Boy x Master Imp – A very tall 17hh filly, who is both careful and courageous in her jump.
Vendor – Don Coen
Buyer – Dag Mosvold (NOR)
Lot 61 – MBF Flagstaff Flyer – a very attractive gelding with the movement and jump to match.
€35,000
CMS Gunfire x Courgar
Vendor – MBF Sporthorses
Buyer – Robert Sirch (GER)
Lot 2 – Monbeg Crystal Clear – from bloodlines producing very good jumpers and eventers.
€33,000
HHS Cornet x The Echo Factor
Vendor – Monbeg Sporthorses
Buyer – John Bell (UK)
In a new development for 2022 this year's sale was presented by Sprenger, one of the world's leading manufacturers of bits, spurs, and stirrups.
"We're delighted to have Sprenger on-board and look forward to working with them into the future. I've personally used Sprenger bits in all 3-phases of competition for the past 20-years, including at Olympic and World Championship level. Sprenger have always done the job, with no gimmicks, and supported horses from the young ones, to the very top of the sport" confirmed Niall.
Simon Middleton, Managing Director of Zebra Products, distributors for Sprenger, commented, "we are delighted to be able to support the Monart Sales with Sprenger. Sprenger is a heritage brand that is synonymous with the very best quality, so we see the fit with Monart as just perfect".
video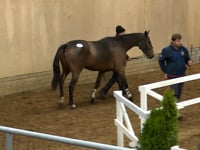 2022 Sales results